This inaugural exhibition for the Library's new exhibition room celebrates musical treasures held in Lambeth Palace Library, placing better-known holdings alongside lesser-known volumes and fragments from the collections.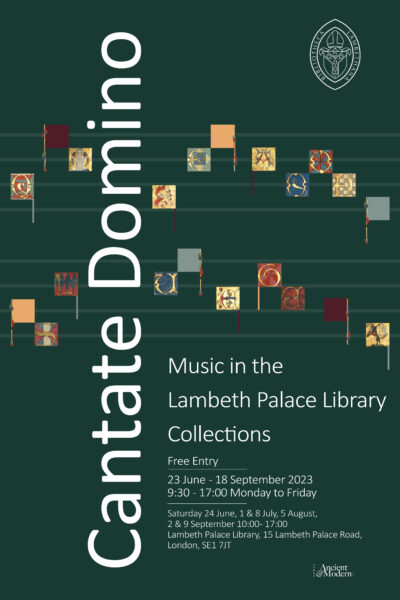 The exhibition features the Arundel Choirbook (one of the most important records of Tudor polyphonic music); Sion College's illuminated York Breviary from the 15th century; and sermon notes pertinent to the composition of the hymn "Amazing Grace" (celebrating its 250th anniversary this year). These are displayed alongside numerous other beautiful and interesting examples of music in the Library's collections found in a variety of forms and spanning the 11th to 20th centuries.
This free exhibition will be open from 23 June to 18 September 2023. In addition, a concert (including private view of the exhibition) will be held in conjunction with the exhibition on 11 July. The annual Friends of Lambeth Palace Library Lecture, to be delivered by Professor Magnus Williamson on 23 June, will also complement the exhibition.
For more information about the concert and to book tickets, please see our Eventbrite.
We are grateful to Hymns Ancient and Modern for a grant towards the costs of producing this exhibition – www.hymnsam.co.uk