Lambeth Palace Library invites you to peer into the courtroom of the Province of Canterbury's most senior ecclesiastical court. The records of the Court of Arches follow misbehaving clergy, watchful servants and members of the gentry with much to lose, as they battle their way through allegations of infidelity, defamation and wayward religious practices. This exhibition explores some of the themes that dominate the court and illuminates social relations and practices over four hundred years.
Over the course of the Court's life, its records have been stored in numerous sites from the towers of Lambeth Palace to a disused well in St Paul's churchyard. The Library is grateful for the generous funding from the National Manuscripts Conservation Trust to help us preserve this archive and reveal the effects of recent conservation work on the documents, and to the Friends of Library for their on-going support of the cataloguing work.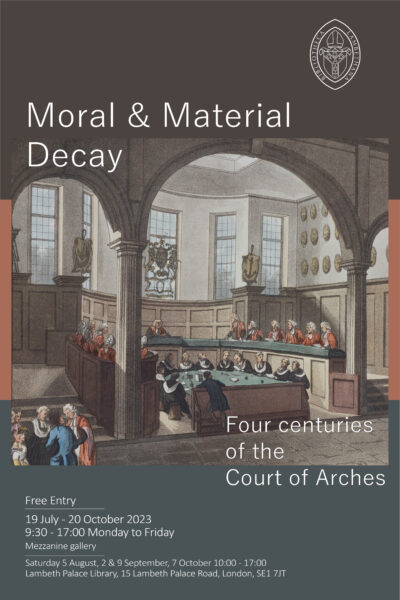 This free exhibition will be in the mezzanine gallery from 19 July to 20 October 2023. In addition there will be a talk by Richard Palmer to support the exhibition, please book tickets for this via Eventbrite.